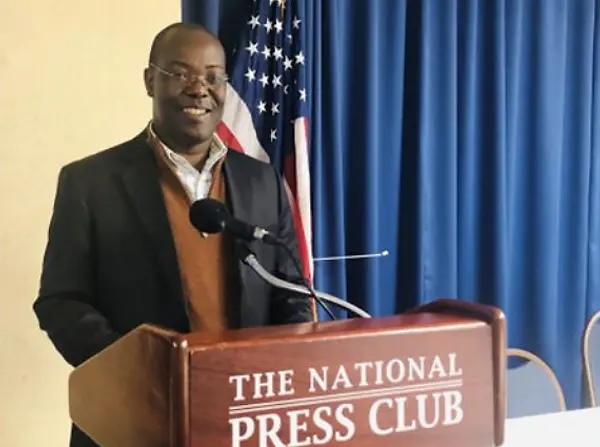 Announcing The 2022 OCDC International Cooperative Champion Award Recipient
This year we are pleased to present the OCDC International Cooperative Champion Award to Professor Isaac Nyamongo, Deputy Vice Chancellor Cooperative Development, Research and Innovation at the Cooperative University of Kenya. The award was formally announced at the 2022 Cooperative IMPACT Conference on October 6, 2022. You can view the recording of the award presentation here.
The International Cooperative Champion Award recognizes a cooperative professional that has made outstanding contributions through championing, promoting and advocating for effective, sustainable international cooperative development, particularly in low-income and emerging economies. Statesmanship, lasting achievement, co-op advancement, recognition and business practice were qualifications the committee considered when selecting the awardee.
Professor Nyamongo is a champion of cooperatives in Kenya. In addition to his position at the Cooperative University of Kenya, he chairs the Committee on Cooperative Research (CCR) for International Cooperative Alliance-Africa and serves on the global CCR.
Over the years, Nyamongo has shown personal commitment, leadership and vision for which he was honored by the President of the Republic of Kenya with the prestigious state award of the Moran of the Burning Spear (MBS). Since 2017, he has mentored junior colleagues and provided solid leadership through his work with cooperative development partners, and communities promoting dialogue in the cooperative movement through outreach activities.
Nyamongo is respected as a thought leader in matters of cooperative development and has influenced Kenya's national and subnational/county-level policy direction as a result. He has achieved identifiable and lasting changes to improve and promote cooperatives through advocacy and engaging with policy makers, including influencing the change of the government's earlier directive to register transport service providers into SACCOs instead of service-providing cooperatives.
Nyamongo has inspired and persuaded others into action through regular contributions to cooperative development issues, which has led to a positive view of various aspects of cooperatives. In particular, he has helped to initiate "out-of-box" solutions to current problems facing the cooperative sector. His own research has focused on supporting the creation of women-led cooperatives in the poultry value chain to support women's economic empowerment and well-being. Congratulations!