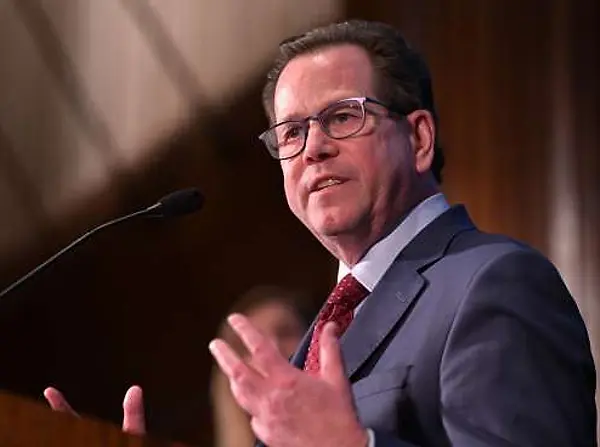 Congratulations to Paul Hazen, OCDC Executive Director!
On October 6, 2022, Paul Hazen, OCDC Executive Director, was inducted into the Cooperative Hall of Fame. This well-deserved honor recognizes his commitment, both professionally and personally, to the cooperative model and values. He has devoted his career to elevating the cooperative voice domestically and internationally. You can view the Cooperative Hall of Fame inductee video and learn more about his cooperative journey and impact on Paul's Hall of Fame page.
Following is his cooperative journey as documented in his nomination for the cooperative hall of fame. OCDC has been fortunate to have been led by such a strong cooperative leader. We celebrate you, Paul — congratulations!
Paul Hazen embodies the attributes of a "Co-op Hero" which are:
• Demonstrated statesmanship, innovation, personal commitment, leadership, and vision beyond the professional competence and requirements of the position for which he/she was employed to serve within the cooperative sector.
• Achieved identifiable and lasting changes to improve and promote cooperatives.
• Inspired and persuaded others to act to advance the cooperative system.
• Recognized for work relating to cooperatives at one or more of the following levels — local, regional, national or international.
Growing up in a small, western Wisconsin community and then working for the Congressman that represented 300-miles along the Mississippi River, Paul Hazen understood that cooperatives delivered electricity to the surrounding farmsteads and helped dairy farmers collect, process and distribute their milk in markets miles away.
These rural and agriculture cooperatives – dairy, electric, farm credit, telephone, supply – are the lifeblood for the agriculture community and provide the inputs needed for a strong rural economy. These lessons stayed with Paul and guided his forty-year career with cooperatives.
Upon leaving the Congressman's office, Paul took his next career step as Executive Director of the Wisconsin Rural Housing Coalition. This organization used the cooperative housing model to address the affordable housing shortage common to most rural communities in the United States.
By the mid 1980s, Paul was ready to move to the national level and started his 25-year tenure with the National Cooperative Business Association/Cooperative League of the USA (NCBA/CLUSA) in Washington, DC first as director of consumer cooperatives, then as President and Chief Executive Officer. It was during his time with NCBA/CLUSA that Paul achieved significant accomplishments that continue to serve and grow cooperatives and the cooperative movement.
The examples of his achievements enumerated below go far beyond regular duties as an employee or head of a membership organization. Most Chief Executives of membership organizations devote their time to making sure members are receiving services for their dues. NCBA/CLUSA and the Overseas Cooperative Development Council (OCDC) are not sector-specific member organizations focused on delivering tangible services like electricity, processing milk, or managing housing units. Both NCBA/CLUSA and OCDC promote the cooperative business model and principles. It requires vision and tenacity to convince members of these associations to support initiatives designed to create cooperative resources for emerging entities; to use dues to promote a global identify; or, to empower people living in underserved world markets. Paul provided the vision for the members and these accomplishments.
Lasting Achievement: Centers for Rural Cooperative Development. Few know, perhaps, that it was Paul as NCBA Vice President of Public Policy who secured the first authorization for Centers for Rural Cooperative Development. The Rural Development Act of 1990 included provision for Centers for Rural Technology Transfer sponsored by Rep. Tom Coleman (R-MO). Paul persuaded Coleman to accept an amendment to include "or Cooperative Development" which was accepted by Subcommittee Chairman Glenn English (D-OK; Cooperative HOF 2010). This federal authorization to create Centers and provide grants was rolled into the 1990 Omnibus Farm Bill and became Public Law 101-624 on November 28, 1990.
Thirty-one years later, Centers for Rural Cooperative Development has grown from the initial eight with $1 million in grants to a national network, CooperationWorks, with 42 members serving 50 states that have received $150 million in federal funds for rural economic development since 1992. Just as cooperatives serve the rural communities of Paul's childhood, new cooperatives created through these Centers are addressing food deserts in rural Montana and North Dakota; affordable housing in rural Northeast and Northwest regions through resident-owned communities; and retaining jobs through small business-employee ownership transitions.
Lasting Achievement: DotCoop/Innovation. Creating a shared identity for cooperatives in the United States, and the world, has been a century-old endeavor. When the Internet came along and businesses, nonprofits and educational institutions began to use it to promote their brands, it seemed like an ideal way to finally create an identify for cooperatives in commerce.
As President and CEO of NCBA, Paul not only accepted this audacious staff recommendation but embraced it and provided leadership through extraordinary challenges including a global competition for one of the four sponsored domain names that were to be awarded in 2002 by the Internet Corporation for Assigned Names and Numbers (ICANN).Not only was the competition for one of four Top-Level Domain (TLD) global, but many had incredibly deep pockets (e.g., the airline industry) to run national campaigns (e.g., full page ads in daily newspapers in the United States). Paul believed that the principles of cooperatives would appeal to members of ICANN along with the numbers – 1 billion people in the world were co-op members. He was right.
According to Wikipedia: ".coop is a Top-Level Domain (TLD). It is one of the original four 'sponsored' internet namespaces – specialized TLDs that represent a community most affected by the TLD. The .coop domain suffix allows cooperatives to identify themselves as member-owned businesses on the Internet and to help consumers find the businesses they trust online. The .coop domain reflects the cooperative movement's aims of growing awareness of the movement and the benefits of cooperative activity online with both the global cooperative community and the wider public."
Lasting Achievement: Community Purchasing Alliance (CPA)/Innovation. CPA is the only buying cooperative serving schools, churches, and other mission-oriented property owners that makes a quantitative promise about its performance with tailored insights about contracting and facilities management to under-served nonprofits and guarantee savings.
In 2011, Paul combined his leadership in his church with knowledge of cooperatives to organize 12 congregations in Washington DC to aggregate demand for electricity and negotiate prices for these non-profit organizations, saving $100,000. Today, CPA has changed the way that 120 schools and churches think about their utilities, service contracts and vendor relationships. In 2017, CPA pioneered a cooperative solar initiative that secured more than 5 million in savings for members. It has created a toolkit for other non-profit communities to use and replicate the success of CPA.
Lasting Achievement: Documenting the Impact of OCDC. Since Paul assumed the Executive Director position for the U.S. Overseas Cooperative Development Council (OCDC), he has been instrumental in creating new and innovative approaches to cooperative development around the world. The first was to establish a Research Group to document the success of OCDC members in their international development work. The second creation, Cooperative Law and Regulation Initiative (CLARITY) assists cooperatives in emerging economies to identify and change in-country legal barriers to establish independence and autonomy from government interference.
Statesmanship, personal commitment, leadership, and vision. For many, a cooperative is a place to buy groceries; conduct banking; deliver agriculture products or live affordably. For Paul Hazen, cooperatives are the way to empower people in the workplace; to organize economic ownership, to improve life, to reduce costs for nonprofit churches. It is this vision and personal commitment that marks his leadership.
Promoting the cooperative business model and principles in a world that often dismisses both is a daunting challenge. It is difficult to articulate the lack of awareness, skepticism or outright hostility encountered when advocating for cooperatives. And, sometimes, cooperative organizations themselves need some nudging to stay true to their mission. Paul has proven to be a leader willing to nudge when needed as articulated by Dame Pauline Green:
"Paul was a key player in the reform of the International Cooperative Alliance. I was elected on a promise of radical reform to build a body that would maximize the influence of our sector on the global economy. The movement which had a collective turnover of US$ 3 trillion deserved and demanded greater impact. Not only was Paul one of the two or three key people worldwide who had the vision and the strategic skills to help to formulate that agenda, he was a strong and determined supporter of its implementation. He was a formidable board member, a powerful advocate for change and determined that the U.S. movement would be a key player in the global movement. He also has a finely attuned political judgment, and that became an exemplar for many of the world's coop leadership strata."
This is the context in which one must assess the statesmanship and personal commitment Paul Hazen has demonstrated daily for forty years. It is this perseverance and optimism to overcome barriers to cooperatives – both external and internal –that makes Paul a hero.
Inspired and persuaded others. Not content to just nudge cooperative organizations to stay true to their mission; or, convince the U.S. Congress to provide millions of dollars for cooperative development in the United States and overseas; or secure a domain name for cooperatives on the internet, Paul has found time to inspire others.
Many go to their houses of worship for personal inspiration and solace. While hopefully Paul found both, he also found a cooperative opportunity and persuaded 12 Washington, DC congregations to follow. The details of the Community Purchasing Alliance were previously described so what follows is a testament to his ability to inspire. From the letter of support from CAP Executive Director Felipe Witcger:
"Paul was instrumental to our founding, growth, and development. He was also pivotal for me, personally — in really bringing me into the co-op movement. He always would make sure I was invited to the NCB annual meeting. And when I showed up he made extra special effort to make sure he introduced me to key people during the cocktail hour. I remember year after year, he would buy a table at the Hall of Fame dinner and make sure he'd sit me next to somebody that could be really meaningful for my personal our CPA's organizational growth. I didn't realize at the time how much he was building me into the fold of the co-op movement in ways that I'm just now starting to see and appreciate how powerful these gatherings were for my own identity as a professional cooperator and movement builder. The investments Paul made in me — I hope will pay dividends through the number of people that CPA has now been able to bring into the co-op movement. Our CPA member-owner church, synagogue, and school leaders — for whom CPA is their first co-op experience in their professional life. To our CPA Co-op staff who have begun to practice the 7 co-op principles into more and more parts of our management, leadership, and workplace culture as an organization — not just at a governance level. I've begun to see myself more and more as a cooperator — as my primary identity. This because of what I've learned from Paul and the part of the movement he showed me."
Local, regional, national, AND international. From Wauzeka, Wisconsin to Washington, DC to the world, Paul Hazen is unique in the breadth of his work on the local, regional, national, and international levels. Few people in the cooperative movement have been able to make contributions to cooperatives at all those levels.It is explained through his commitment to public policy. When he started his cooperative career in Wisconsin with the Rural Housing Coalition, he needed to know how to influence local building and siting regulations for housing.
During his career at NCBA and now at OCDC, his work required working with Congressional leaders and federal agency personnel to advance cooperative legislative provisions and program implementation.
But perhaps most inspiring and indicative of his commitment to cooperatives, Paul continues to create and influence policy through his work with the Community Purchasing Alliance due to his personal faith and belief in community and his work with the City Council of Washington, DC on limited equity housing cooperatives.
For his achievements that continue to grow cooperatives, provide resources, and influence public policy; for his vision, commitment, and leadership; for his demonstrated ability to inspire and persuade; and, for his life-long belief in the cooperative principles, Paul Hazen was inducted into the Cooperative Hall of Fame in 2022.