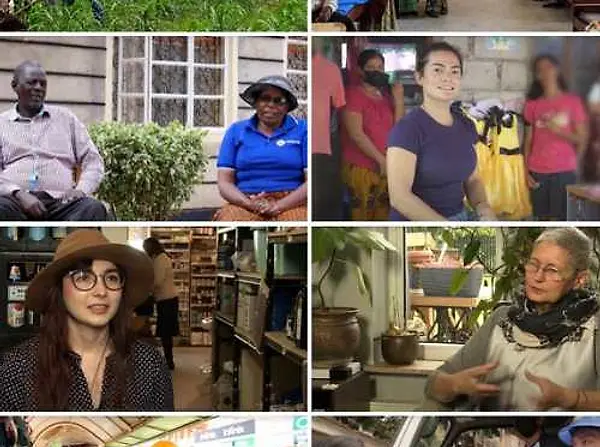 Glimpse how co-op members are celebrating the 100th anniversary of International Day of Cooperatives
On July 2, the International Day of Cooperatives celebrates a milestone anniversary — 100 years of building a better world through cooperatives. The U.S. Overseas Cooperative Development Council (OCDC) and its member organizations invite you to join in the celebration through a glimpse of how lives have been changed through membership in locally managed and controlled co-ops.
Meet these co-op members and see how they might be spending their time on the International Day of Cooperatives:
• Ola and her three sons, wake up in their own home in Warsaw, Poland — a home they were able to afford because of an individually owned cooperative housing development. See the video here.
• Samantha manages a wedding-gown cooperative business in the Philippines. In the morning, she arrives at her shop for a busy day fitting future brides in the gown of their dreams. Tailors make up the co-op, which allows them to source textiles and other gown materials at cheaper prices. In addition, the cooperative provided Samantha with the small amount of capital needed to open her own shop. Since then, she's saved enough to open other branches. See her story here.
• Florence, a mother and grandmother, is testing her soil to determine what fertilizers her potato field in Kenya will need to yield the best crop. She formed a group of women potato farmers, but no commercial bank would finance these small-scale producers. Florence connected them to a SACCO (financial cooperative), which provided the financing for them to buy the right seed and inputs, linked them to an agronomist for training, and directly connected them to a market so they wouldn't have to sell to a third party. This market access generated greater income for these farmers. Hear her story.
• Elpido, a member of Norandino Cooperative in Peru, inspects his crop of native white cocoa to determine if it's ready for harvest. Each year, the co-op trades 70 tons of white cocoa, providing a sustainable livelihood for people in Elpido's community. Watch his story here.
• A Dobrze food co-op member shops for groceries in Poland. This co-op operates under the slogan "fair, ecological food" and sources directly from farmers. Not only does it pay them fairly, it also brings fresher produce to its urban members than what's offered by a typical large grocery store.
• John first became a SACCO member as part of his motorcycle "boda boda" cooperative. He was able to secure financing to build a house, as well as school loans for his children. Most recently, he arranged financing to buy a car and advance his career as a taxi driver. See his story here.
• As the day draws to a close, Fely, a teacher, business owner and member of an electric cooperative in the Philippines, turns off the lights and heads to bed. The lights in her home, the school and her business are all powered by her co-op, a cooperative that powers dreams.
For these and more stories of cooperative members around the world, visit the OCDC website, Cooperative Difference-International Member Portraits.

While our overseas cooperative partners engage in their typical Saturday activities, U.S. based OCDC members may be enjoying co-op products over the long holiday weekend:
• Waking up with coffee from Equal Exchange and orange juice from Florida's Natural farmer cooperative.
• Visiting a nearby credit union ATM to get cash for the 4th of July carnival. As a credit union member, there are no fees for withdrawals.
• Fixing a grilled cheese sandwich made from Land O Lakes cheese and butter and fresh bread bought from a local food cooperative.
• Spending time outdoors — camping or just going for a hike at a nearby state park — with shoes and gear purchased at REI, a member-owned consumer cooperative.
• Munching on snacks like trail mix made of almonds from Blue Diamond and dried cranberries from Ocean Spray cooperatives.
• Enjoying a dinner of tacos with spices from Frontier Co-op and beef bred through artificial insemination by GENEX cooperative.
Cooperatives intersect all our lives, and on International Day of Cooperatives, we're eager to celebrate them and how they make our lives better! Test your knowledge with this brief quiz and learn about OCDCs members' cooperative development programs: Click Here!