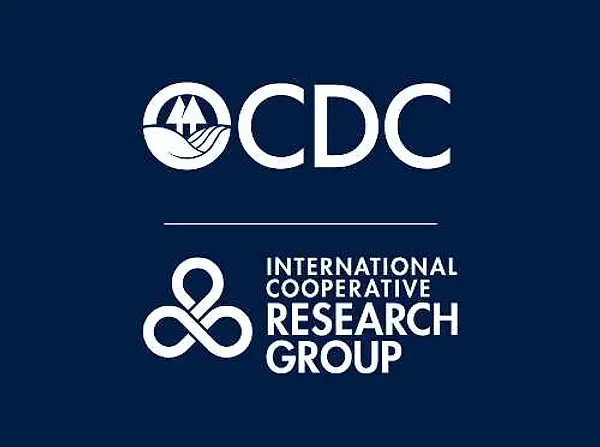 Second Annual Research Forum on Cooperative Development Programs
Washington, D.C. (December 11, 2019) – OCDC and the International Cooperative Research Group (ICRG) are proud to announce a successful Research Forum touting the resilience of the cooperative model, and its cooperative development programs. Held at the National Press Club, this event hosted representatives from USAID, IFAD, and the USDA, among other distinguished guests and scholars. Speakers presented on a wide range of topics, including the preliminary findings of ICRG's flagship research initiative into the advantage of cooperatives, the transformative power cooperatives hold in economies, and social agency afforded by the cooperative model. Michael Rossman, Director of the Office of Local Sustainability at USAID offered perspectives from the Office.
Cooperative Development Programs
Key learnings from these research presentations include lessons of the cooperative difference from Research Director Dr. Judith Hermanson. Presenting preliminary findings from the ICRG flagship research project What Difference do Cooperatives Make?, Dr. Hermanson discussed data which shows cooperative members maintain income above the national average and above their non-member peers in all countries studied. Digging further into the data, we find that members attribute their economic successes to cooperative involvement, and that the primary motivator to join a cooperative is financial in nature. 
Dr. Sonja Novkovic addressed the application of an economic paradigm which fits the social mission of cooperatives with their economic benefits. Dr. Novkovic sees new shifts in economic theory toward a need for more social justice in the system. Among these new paradigms, Novkovic mentioned the economy for the common good, one of a handful of frameworks which mesh very well with the social justice aspects of the cooperative model. A primary reason for this synergy is the user over investor relationship with the business. When users own the structure, they are able to better influence goals of the business toward social achievements that directly benefit the users. 
Following the presentations of research, an international panel of experts from the field discussed the application of research on the ground, and the motifs of resilience that shine through most prominently. The panel, moderated by Senior Research Associate, Ashley Holst, included Olga Oyier, Policy & Legislative Affairs Specialist, Global Communities; Dr. Isaac Nyamongo, Professor of Anthropology and Deputy Vice Chancellor, Cooperative University of Kenya; and Patrick Muriuki, Country Representative, WOCCU. 
Pictured. Dr. Isaac Nyamongo, Olga Oyier, and Patrick Muriuki.
OCDC and the ICRG would like to thank our member organizations for their hard work and engaged participation in this annual research forum. Their hard work and dedication to the cooperative model demonstrates a true commitment to our cooperative values, which undergird the success, and resilience, of cooperatives in international development. 
About OCDC
OCDC brings together organizations committed to building a more prosperous world through cooperatives. Its mission is to champion, advocate and promote effective international cooperative development. OCDC members are global leaders in cooperative development in Africa, Latin America and Asia. With projects in over 70 counties, OCDC members implement the largest portfolio of cooperative development programs in the world. Members are: Equal Exchange, GENEX, Global Communities, HealthPartners, Land O'Lakes Venture 37, National Cooperative Business Association CLUSA International, NRECA International and the World Council of Credit Unions.
International Cooperative Research Group
The International Cooperative Research Group is a division within OCDC that conducts academically rigorous research to support and enhance cooperative development, develops application tools, and facilitates learning amongst its member cooperative development organizations, other cooperatives and the international development community. This research is supported by the Cooperative Development Program from USAID.