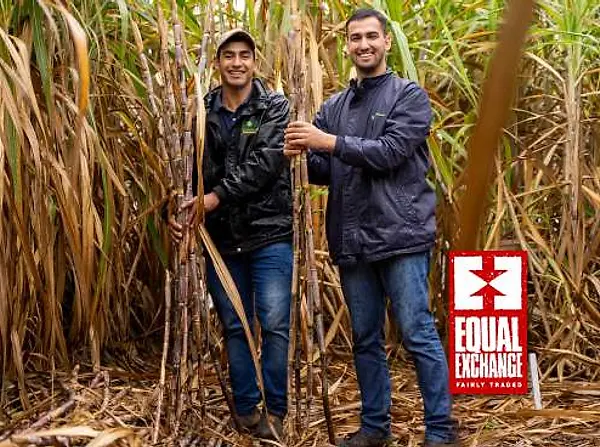 Member Spotlight: Equal Exchange
For our December 2022 Member Spotlight, we hear from Dary Goodrich, Chocolate Products Manager at Equal Exchange. Grab a cup of Equal Exchange coffee or cocoa to enjoy while reading this blog and learning more about this worker-owned cooperative!
• What is Equal Exchange?
Since its founding in 1986, Equal Exchange has been a pioneer and U.S. market leader in authentic fair trade. We started with coffee but now source and sell many different fairly trade food products to support small-scale farmers who have historically been at a disadvantage in the global market. We source from more than 40 small farmer co-operatives in over 20 countries around the world and our Equal Exchange products are available across the US. In keeping with our mission to change the way trade is done, Equal Exchange is a worker-owned cooperative, an alternative business model based on democratic principles.
• How did your cooperative begin?
Equal Exchange started with an idea: what if food could be traded in a way that is honest and fair, a way that empowers both farmers and consumers? Our three founders asked this question as they envisioned a trade model that values each part of the supply chain. They decided to take a big risk and started importing fairly traded coffee from Nicaragua in 1986, despite a US embargo against the Sandinista government. A new cooperative business was born from this bold act of solidarity with Latin American farmers and Equal Exchange grew from there.
• What benefits do member-owners receive?
As a worker cooperative one of the biggest benefits is that the members have a voice in and control over the governance of our business. What does this mean? We now have over 100 worker-owners and each worker-owner gets one vote, has access to shared financial information, and invests an equal share in the business. With this vote, members elect our Board of Directors (six of our Board seats are for worker-owners) and we have a voice in governance decisions, such as a major change in operations as well the power to change our by-laws. Beyond the governance piece, because we all have an ownership share in Equal Exchange, if we have a successful year and there is a surplus or profit, some of this money is paid out as a dividend to members for their work during the year.
• What international development programming has Equal Exchange been engaged in over the last 5 years?
Our main international development program is our USAID Cooperative Development Program (CDP). In 2018 we began our second CDP, which is called the Equal Exchange Agricultural Cooperative Advancement and Innovation Program. Through this program we work with farmer cooperatives in Mexico, Guatemala, Peru and Paraguay who produce and sell coffee, cacao, sugar and bananas. Our program's aim is to support farmer cooperatives with resources that will allow them to try new models and innovate so that they can be stronger businesses, improve how they function as a democratic organization, and provide better services to their members. All of this is with the end goal of improving the livelihoods of small-scale farmers. To do this, our work has focused on improving farm productivity, developing higher quality products, strengthening cooperative governance and increasing inclusivity for women and youth. Of course, in the last few years, much of our work shifted to make sure all of us, Equal Exchange and our cooperative partners, were able to weather the major challenges brought on by the pandemic. I was fortunate to be able to travel to Paraguay in September for our first in person CDP exchange since 2019. It was amazing to see all of the advances that cooperatives were able to make in each of these program areas over the last 3 years, despite the challenges we all faced. It was inspiring.
• What is the thing that most surprises people when they learn about Equal Exchange?
Something that many folks might not know, or might be surprised about, is an update to our governance structure. In recent years, we have been building our "Citizen-Consumer" program, inviting our customers to engage more deeply with Equal Exchange and the issues most important to us. As part of this program, we voted to open up seats on our Board of Directors to give our customers a way to participate more directly in our democratic structure. Meaning, if you join our Citizen-Consumer program you could potentially be on our Board of Directors!